Your services at the NürnbergMesse exhibition venue

WiFi throughout the site
As a visitor of EUROGUSS, you are online free of charge throughout the exhibition venue.
We also offer high speed WiFi access for the sending and use of larger quantities of data. For EUR 5 per hour with minute-based billing or for a whole day for EUR 25, depending on your requirements.
Lockers and cloakrooms
You can find lockers in the entrance areas – you can leave coats, jackets or items of luggage in the cloakrooms for a fee of EUR 2 a piece.
Restaurants and cafés
Fancy a substantial lunch, or rather a tasty sandwich to keep you going? The following restaurants are open during EUROGUSS: Vasco da Gama (NCC Ost, 1st Floor), Cafe at Foyer NCC Ost, Cafe at Special Show "Research for Knowledge". There are also various kiosks and snack bars in hall 7 and 7A. The site plan shows all facilities like restaurants, cafes, car parks, entrances and exits, or toilets:
As well as restaurants and cafés, the
site plan shows all the car parks, entrances and exits, and toilets.
Wash rooms and WCs
You can find wash rooms and WCs near the Mitte, West and Ost entrances, in all the service areas between the halls and in NCC Ost.
Cash machines
You can withdraw money in the entrance areas of NCC Ost.
Lost property
You have lost something? Please contact our colleagues from Helpdesk Facility Management. The Helpdesk Facility Management can be found in the Operation Center in the entrance area of Eingang Mitte.
First aid
In emergencies, first aid is provided in the Operation Center, in NCC Ost and NCC West.
Telephone number for BRK at the exhibition centre
Security Control Unit (SCU): +49 9 11 86 06-70 00
Childcare
Unfortunately, at EUROGUSS, no childcare is provided.
Pets
For safety reasons, pets are unfortunately not permitted at the exhibition venue. Guide dogs may, of course, be brought.
Barrier-free exhibition center
Our entire fairground is accessible. Facilities at higher levels can be easily reached via our lifts.
All important information for people with handicap at a glace.
Contact for visitors
Floor plan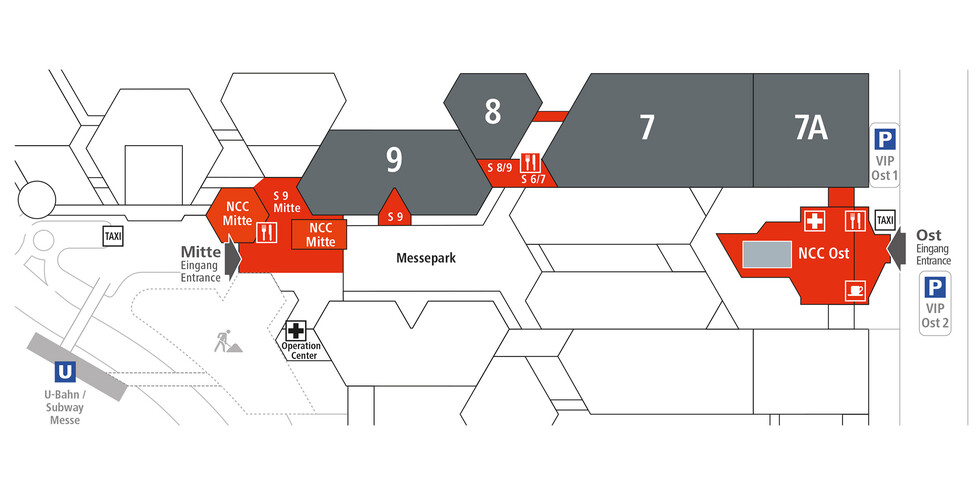 The floor plan shows you an overview of the whole offer of EUROGUSS at the exhibition centre Nuremberg, arranged by the main themes.
Floor plan